GAL WRESTLER WINS DESPITE PIN
By LENN ROBBINS
http://www.nypost.com/sports/6610.htm
December 6, 2001 -- These are not the words most young girls grow up dreaming to hear from their college teammates:
"They told me to go out there, do my best and, you know, kick his rear-end," Christina Luksa said.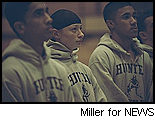 Maybe not the best way to get your man but Luksa's idea of getting over is to put her male opponent on his back and pin him. She is the first woman wrestler in the history of Hunter College and last night the freshman from Brooklyn wrestled her first match at 141 pounds.
When the horn sounded at the end of the first three-minute period and Luksa was still standing, the crowd of about 100 at Hunter College gave her a boisterous ovation, even though she was trailing SUNY Maritime's Mike Loeuis, 5-1.
With 38 seconds left in the second period, Loeuis pinned Luksa. It was a nerve-wracking experience for both. Tears of joy streamed down Luksa's face after the match.
"It's worth it," she said.
Loeuis admitted to feeling as if he was in a no-win situation. He didn't know he'd be wrestling a woman until 30 minutes before the match and several of his teammates couldn't hide their grins during introductions.
"I never wrestled a woman so I didn't know what to expect," Loeuis said. "I just wanted to pin her like any other wrestler."
When the Hawks first entered the gym, Luksa looked like any other wrestler. Her gray sweatshirt was pulled up over her head. She kept turning to her teammates for support.
"It was a natural fit," Hunter coach Bob Gaudenzi said. "At our first team meeting, I told the guys we were going to have our first woman wrestler at Hunter and they treated her like any other wrestler. She did everything the guys did. She did everything in training they did."
Luksa proved she was serious about wrestling and looks forward to the day when two television networks and two daily newspapers don't cover her matches.
"It comes with the territory," Luksa said. "If I could just be a wrestler, that would be cool. The attention wouldn't be there. It would be easier."
Luksa has a smile that can light up a room and shoulder-length, dirty blond hair that she keeps tied in a pony tail. You don't see any of that when she dons her purple and yellow Hunter College singlet and straps on her wrestling headgear.
The hair is tucked away. Her face is set in a steely vise. All you see is a wrestler, albeit one who wears a sports bra, which is exactly what Luksa wants.
"If she's tough enough to be out there, she gets treated like any other wrestler," referee Stuart Kohn said. "She gets no quarter and I'm sure she doesn't want any. All athletes want to be treated the same."
Luksa is not the same. She's a she in a he-man sport.
She is not cut like a former East German track star. After the match, she is much like any other coed. She works as a dental assistant and wants to be a pediatric dentist. She's close to her niece and nephew.
After the match, the head gear came off and her hair fell to her shoulders. She was mobbed by her teammates and that huge grin was pinned across her face.
"Even though I didn't win," she said. "I still feel I kicked his rear-end."
---
Another NY Post article about Luksa...
http://www.nydailynews.com/2001-12-06/Metro_Sports/College/a-134328.asp
Thursday, December 06, 2001

Hunter Co-Ed City's First Female Wrestler
By WAYNE COFFEY
Daily News Sports Writer

Three stories below Lexington Ave., with shaky nerves beforehand and joyful tears afterward, Christina Luksa made her college debut, and a piece of history, last night.

She liked the debut part best. It came on a purple mat, before two dozen fans, and if getting pinned wasn't the result she wanted, well, it didn't alter her view of the larger picture.

"It's worth it," Luksa said, brushing away a tear.

Luksa, of Sunset Park, Brooklyn, is an 18-year-old freshman at Hunter College, and the first female wrestler in school history. She is believed to be the only female college wrestler in the city, but this is no novelty act.

Ask her teammates, or her coach, Bob Gaudenzi.

"Right off the bat with Christina you knew she was serious," Gaudenzi said. "She'll wrestle just about any guy in the room."

Or as teammate Ed Parra, a 197-pound freshman, told her, "On the mat, you're not a male or a female. You're a wrestler."

Luksa, 5-6 and 141 pounds, could hardly be picked out as Hunter came out against SUNY Maritime, running a few laps in gray sweats. Only when her hood and sweats came off did her gender become apparent.

Luksa was going to debut against Yeshiva in another dual match yesterday, before Yeshiva officials said that orthodox dictates forbade any of their athletes to wrestle a woman.

So Gaudenzi switched her to the Maritime match. Her opponent, Mike Leouis, a sophomore from Chatham, N.J., didn't know he was wrestling a woman until 30 minutes before.

What was he thinking?

"Pin her like any other guy," he said.

The youngest of five children of Ivan and Janina Luksa, Christina comes from a fearless sisterhood. Basia, 32, her oldest sister, sky dives. Roz, 28, is a transit police officer. Cathy, 26, is a former Hunter softball star studying physical therapy.

Christina grew up playing softball and basketball, but found herself thirsting for physical contact, and some self-defense skills. "My brother (James) used to beat up on me. He kind of trained me for this," Luksa said.

She competed in tae kwon do and judo starting at 14, and then decided she wanted to try wrestling. She approached the AD at Franklin D. Roosevelt HS in Brooklyn. She was rebuffed. Her senior year, more adamant now, she tried again.

Adele Vosel, the school principal, called Janina Luksa. "She told my mother guys would be touching me and she shouldn't let me do it," Christina said. Janina agreed, and so did her father, a truck driver.

Christina had the predictable teenage reaction.

"I went nuts," she said. She eventually wore everyone down, made coach Paul Klyap's team, and finished the season 4-7.

Gaudenzi has been impressed by Luksa's upper-body strength, and even more by her will. Her techniques need work. Her tenacity needs nothing.

"If I had to guess, she'd probably be the last one to quit the team," the coach said.

Luksa was cheered heartily by her teammates last night. Leouis was the aggressor from the start, shot for her legs, took her down. She fought hard, locked up one of his legs, but couldn't hold him off. With 38 seconds left in the second period, the ref slapped the mat.

Luksa's debut was done. Hunter won the match, 41-18.

"I've never wrestled a woman before. I didn't know what to expect," said Leouis. That makes them even; Luksa has never wrestled a woman either. Leouis was impressed. "She competes with guys."

Luksa said she was "gassed" at the end, and needs work on her conditioning. She will stay at it, not to make a statement, but just to do something she loves.

"It's for me," Luksa said.
---